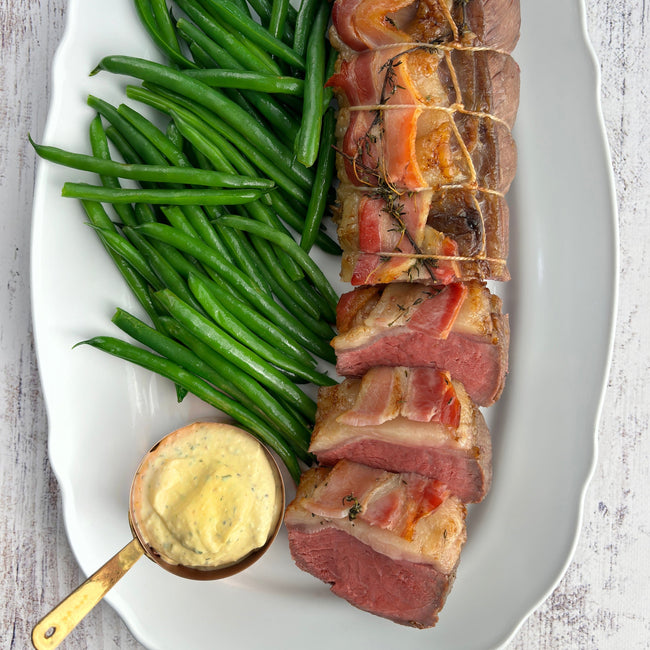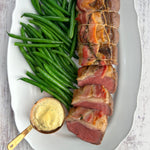 Rolled Roast Beef Mignon w/ Bearnaise Sauce
Take roast beef to the next level with this rolled roast beef mignon. Wrapped in bacon and thyme, and accompanied by creamy bearnaise sauce, this is a stunning addition to the Christmas table.
Frozen - thawing and cooking required. Full roast serves 6 to 8, half roast serves 3 to 4.
Cooking Instructions
Thaw in refrigerator for 24 hours and bring to room temperature for a least an hour before cooking. Pan fry at medium heat on all sides to seal before roasting. For medium rare, bake in a preheated oven at 250˚C for 20 minutes, lowering temperature to 190˚C for a further 20 minutes for rare, or an additional 5 minutes for medium. Internal temperature of beef should reads 50˚C before resting for 15 minutes before carving.
To warm the bearnaise sauce, thaw pouch in refrigerator overnight then warm gently by immersing in hot water until heated through.
Ingredients & Allergens

Beef, bacon, thyme, salt, pepper.
Milk, cream [milk], butter (milk), onion, garlic, corn flour, dijon mustard, vinegar, tarragon, pepper, xanthan gum, oregano.

Contains: milk.
This product has been made in a kitchen that also handles gluten, tree nuts, crustacea, egg, fish, mollusc, peanut, sesame, soy, wheat.

Nutritional Information